We are excited to be starting activities that allow our youth (grade 4 to young adult) to strengthen their sense of belonging to our church, but most importantly to God. As they "hang out" and get to know each other better, our prayer and hope is that leadership skills will be developed, friendships will be made and mostly that their faith will grow.
Senior Youth:
Sr Youth (grades 9-12) will continue on throughout the summer. Keep checking the website and Instagram for more updates!
---
Junior Youth:
Jr. Youth (Grades 6-8) will continue through the month of June, meeting on Wednesday Afternoons at the Church. They will change their "Hangout" times to Friday evening between 4-6 pm through the Summer.
---
KICK's: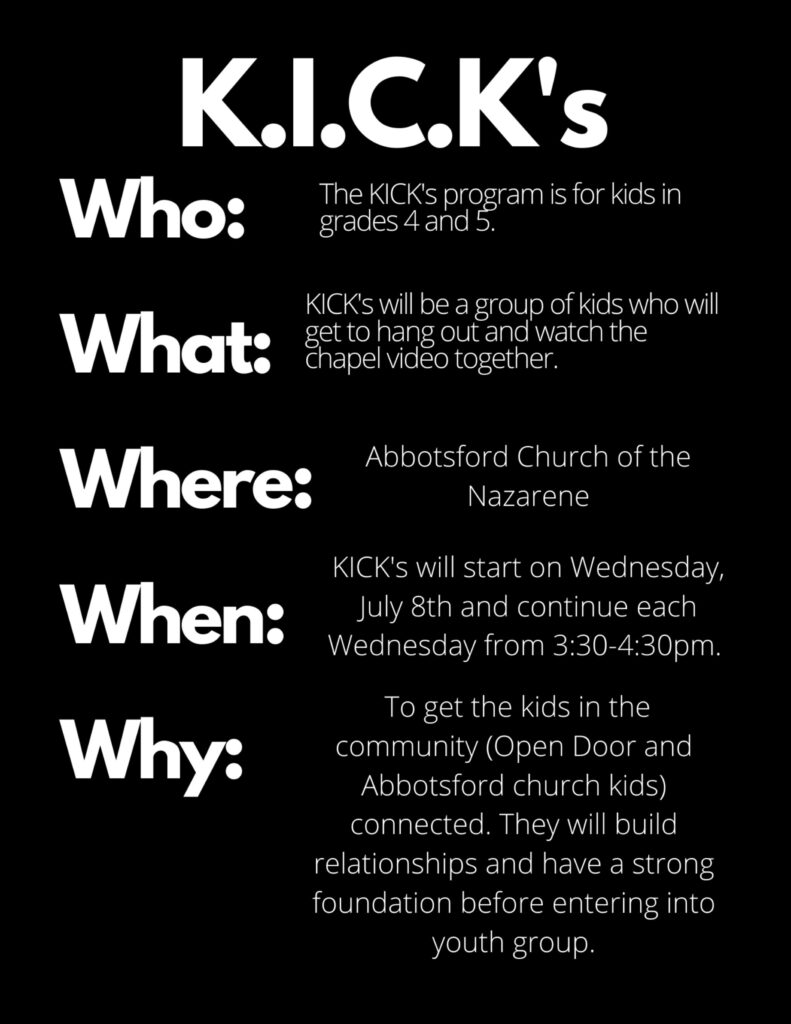 K.I.C.K.'s ( Grades 4&5) – "Kids In The Community Konnecting" Please pray for this new group of Youth that we hope to "Konnect" with. We will host this group at the church and it will include Youth from the Open Door.
---
Please note that all groups will be maintaining social distancing regulations and will abide by all health & safety stipulations. If you have any questions about this please contact the Office.
AbbyNaz Youth: About Us
1. Young people feel like they belong: We attempt to create a safe place for young people to come and feel like they will be a part of something great. They can feel free to be themselves and have fun.
2. Young people will feel loved and cared for: It is our hope that through their sense of belonging and positive attention we can give them that they will feel loved. We achieve this by knowing them, knowing what is going on in their lives, and by listening to them and their concerns and needs.
3. They will know who God is and where their worth comes from. We try and make sure at everything we do, they learn something about God and about the fact that their worth doesn't need to come from outside forces (friends, societal pressures, etc.) but from the knowledge that they are a child of God.